Hello,
I am hosting this Minetest server:
Name: "YuGiOhJCJ's server - http://yugiohjcj.cf/"
Description: "A server made by YuGiOhJCJ."
Version: 5.6.1
Address: yugiohjcj.cf
Port: 30000 (UDP)
You should be able to see it in the Minetest server list [1].
This is a screenshot taken near the spawn point: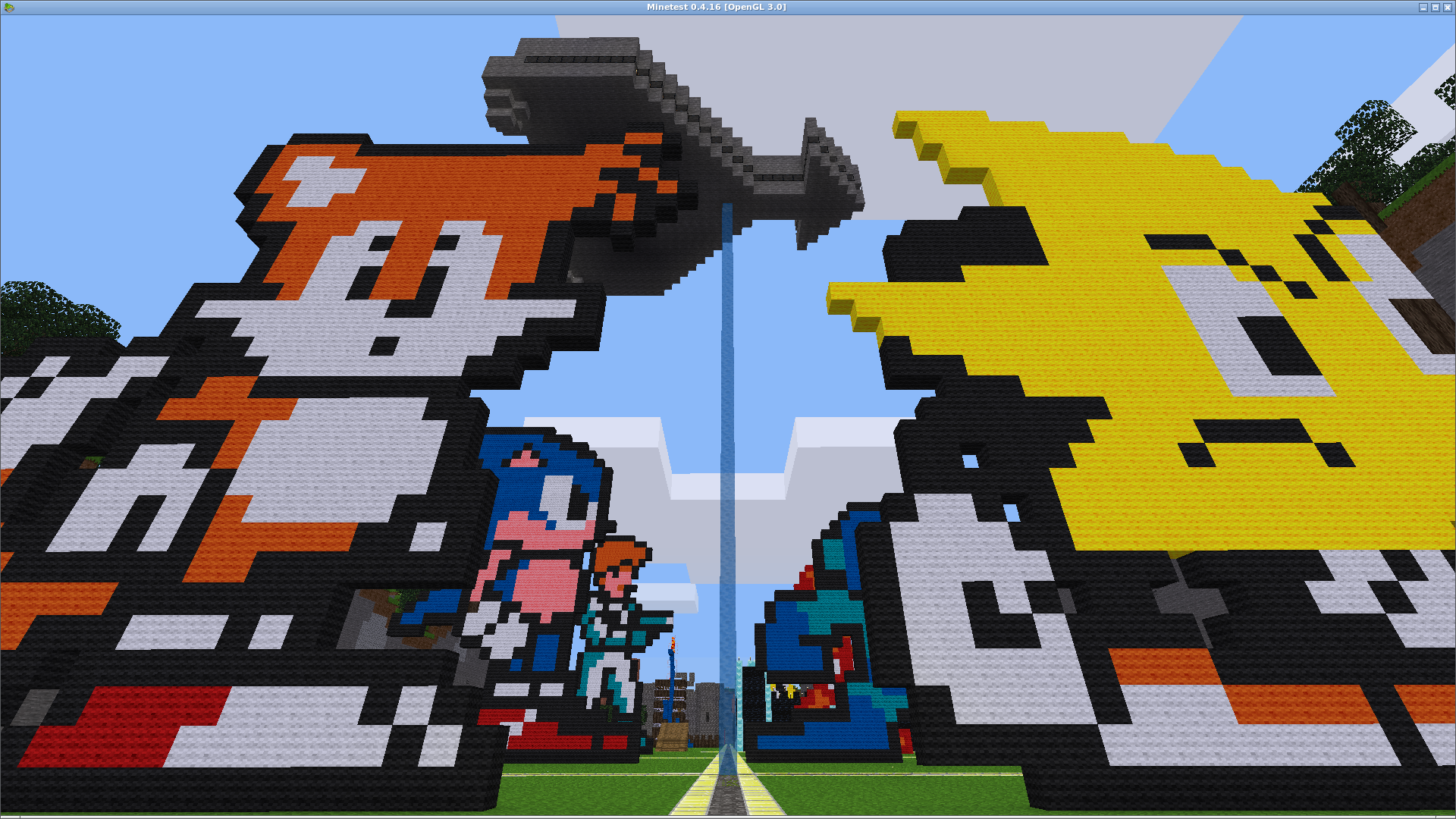 Additional information about the YuGiOhJCJ's server:
Fire: disabled (because it is too dangerous)
Privileges:

give
home
interact
interaction_areas_user
shout
teleport

Mods:

interaction_areas [2]
item_strings [3]
irc [4]
mapfix [5]
rotation [6]
worldedit [7]
Some tips to enjoy the game:
The "/giveme" command allows you to get blocks corresponding to an item string.
Example: "/giveme apple 99" gives you 99 apples.
To get other item strings available, use the "/item_strings_get" command.
Example: "/item_strings_get diamond" will give you all the item strings containing the "diamond" pattern.
The "/teleport" command allows you to teleport to a specified location.
Example: "/teleport 15 51 0" teleports you to the (15, 51, 0) point.
The "/help" command allows you to see the description of commands.
Example: "/help all" gives you the description of all commands.
This server is protected so if you need an interaction area to build on it, just ask it to YuGiOhJCJ.
Type the "/irc_names" command to check if I am currently connected or not.
This server has a forum topic:
viewtopic?t=14795
and an IRC channel:
yugiohjcj.cf:6697 #yugiohjcj-minetest [8]
I often backup the world and I keep all your buildings with the worldedit mod.
If I reset the world, I save your buildings, then I load them in the new world.
In other words, you will never lose your buildings here.
If the server goes down, I will post a message here to explain why.
Have fun :)
[1]
http://servers.minetest.net/
[2] viewtopic.php?f=11&t=14073
[3] viewtopic.php?f=9&t=16012
[4] viewtopic.php?f=11&t=3905
[5] viewtopic.php?t=10662
[6] viewtopic.php?f=9&t=16011
[7] viewtopic.php?id=572
[8]
http://webirc-minetest.yugiohjcj.cf/
This is the list of changes for this message:
2022-12-01:

I replaced the server disk and used a backup from 2020-03-03, so the server is back
Update the Minetest version

2022-11-30:

The server has got a disk failure on 2022-11-29, so I'll replace the disk and use a backup from 2020-03-03, please be patient

2021-08-30:

Update the Minetest version

2020-07-18:

Update the Minetest version

2020-05-21:

Update the Minetest version

2020-03-03:

Update the Minetest version

2019-12-26:

Update the server address

2019-05-09:

Update the Minetest version
Update the server address

2019-01-01:

Update the server address
Update the IRC address
Update the reference to the IRC web client

2018-06-11:

Update the Minetest version

2017-06-05:

Update the Minetest version
Update the screenshot

2017-01-02:

Update the reference to the IRC web client

2016-12-30:

Update the reference to the IRC web client
Add the Minetest version used

2016-12-22:

Add the mapfix mod to the mod list
Add the reference to the mapfix mod

2016-12-10:

Put in lower case the mod names
Use a list for privileges
Remove the paragraph about how to get an interaction area
Replace the list of commands by a list of tips
Add a reference to the IRC web client

2016-12-09:

Add the rotation mod to the mod list
Add the item_strings mod to the mod list
Add the reference to the rotation mod
Add the reference to the item_strings mod

2016-12-02:

Remove the mod versions from the mod list
Remove the paragraph about the server history
Update the screenshot
Add the irc mod to the mod list
Add the reference to the irc mod
Change the mod list to an alphabetical order

2016-05-31: