Hunger Games Server: Eurythmia Hunger Games
Address: langg.net
Port: 30002
Hi! This server runs a complete rewrite of the Hungry Games subgame originally made by @Splizard. The rules are similar:
When the game starts, your are teleported on a bounded map. You must run the map for chests to get stuff, kill the other players, and be the last survivor
.
However, this server has additional features that are not present on any other Hunger Games server:
You can

interact

on the map -- that means, you can dig and place nodes!
There are

multiple maps

(currently there are only two, but we hope to add more soon)! Currently the map is selected at random, but we plan to add a voting system in the future so players can choose the map.
When there are more than 5 players in game, there can be

multiple games

taking place at once so you don't have to wait too long for the current game to end.
In order to limit the waiting time, there is no countdown, nor voting system for game start. Instead, the server waits until enough players are available for a game (2, 3 or 4 players depending on the amount of players currently in-game -- max 4 because no map currently has more than 4 different spawn points) and automatically starts it. There is still a 15-second rest time between games.
At the beginning of each game, there is a 5-minute truce period during which you cannot inflict damage to other players by punching them or throwing arrows at them. This delay is meant to be used to get stuff and build your defenses.
In order to allow interacting on maps, maps are entirely re-loaded after each game. This is done by saving the map as a set of schematics and loading one part of the map (one schematic) every 0.5 second. The schematics are small enough (64x64x64 nodes) so that no perceivable lag is caused in-game by the map cleaning process. Re-loading the maps after each game also allows for many other cool things, such as
fire propagation and TNT
to be enabled without risk of damaging the map. The same map can also be loaded multiple times at different places if needed (for multiple simultaneous games on the same map).
Due to this map loading process, there are dark stripes at the frontiers between schematics (that is, every 64 nodes). This is a known bug, and it is not too annoying when playing (if needed, you can always fix it by placing a torch in a dark stripe). We do not run a

minetest.fix_light

when the game starts because it causes a several-seconds lag, which we think is more inconvenient than the dark stripes.
While you wait for a game to start, you are teleported in a pretty little town that you can visit
(which was initially built on the now-defunct Eurythmia Legacy server, unfortunately it is not as pretty as it was because some nodes are missing, as we do not have all the mods from Eurythmia Legacy on Eurythmia Hunger Games)
. You cannot interact, though -- interact is only granted during games.
If you are the only player in game, you may need to wait a long time until someone else joins, as a game can only be run with at least 2 players
. A spectator mode is planned for waiting when another game is running by watching the game, but it is not implemented yet.
The game records persistent statistics for each player that you can view by typing /stats (which displays your own stats and the ones of the 50 best players).
While playing, you can kill yourself by typing /killme. Quitting the server while playing is equivalent to killing yourself and registers as a death.
The subgame is based on the Minetest Game, and its source is fully available on GitHub:
https://github.com/MT-Eurythmia/HungryGames
Server address:
langg.net
on port
30002
The server is linked to the IRC channel
#eurythmia-hg on Freenode
.
If you are willing to create a map for the server, we'd be very grateful to you. You can use the map maker tool available in the subgame (which includes a lot of code from the CaptureTheFlag map maker tool), however it is currently mostly undocumented, so it will probably be easier to just send us your map in SQLite format and leave it to us to run of the map maker tool :-)
Please note that the server is still unstable and please report any bug to me by PM, on the IRC channel, or, even better, by opening an issue on the GitHub repository.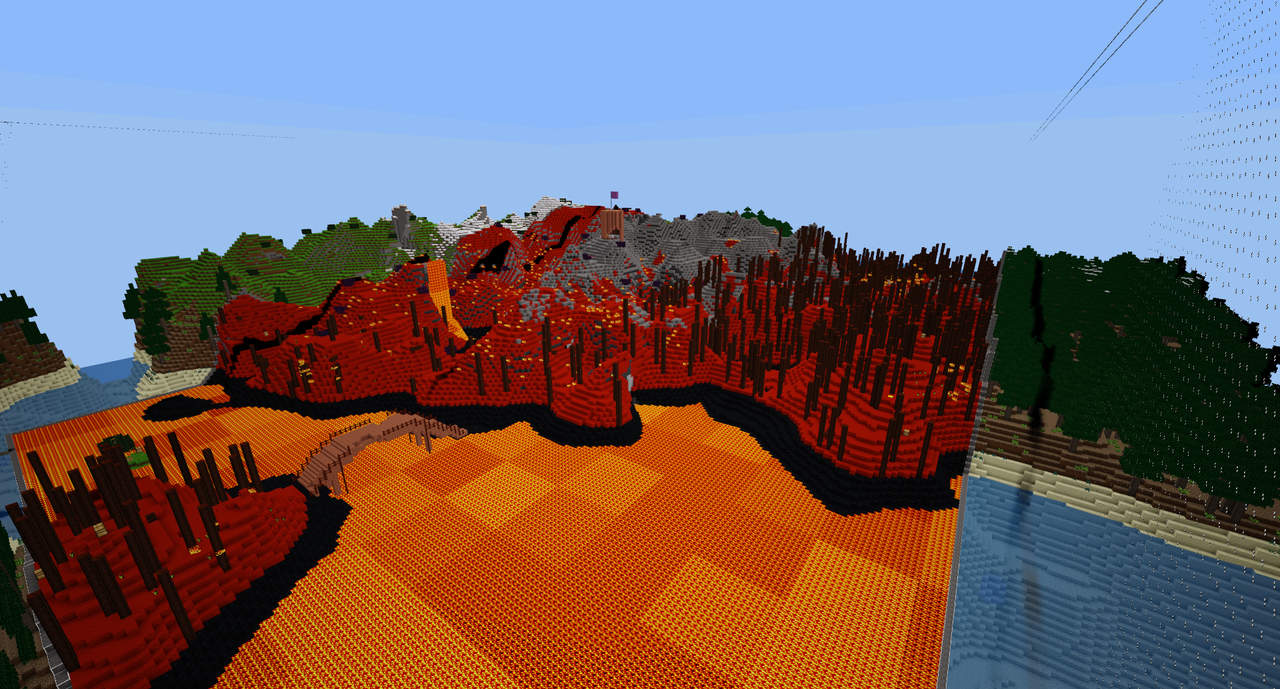 The "fiery" map