ADVANCED TRAINS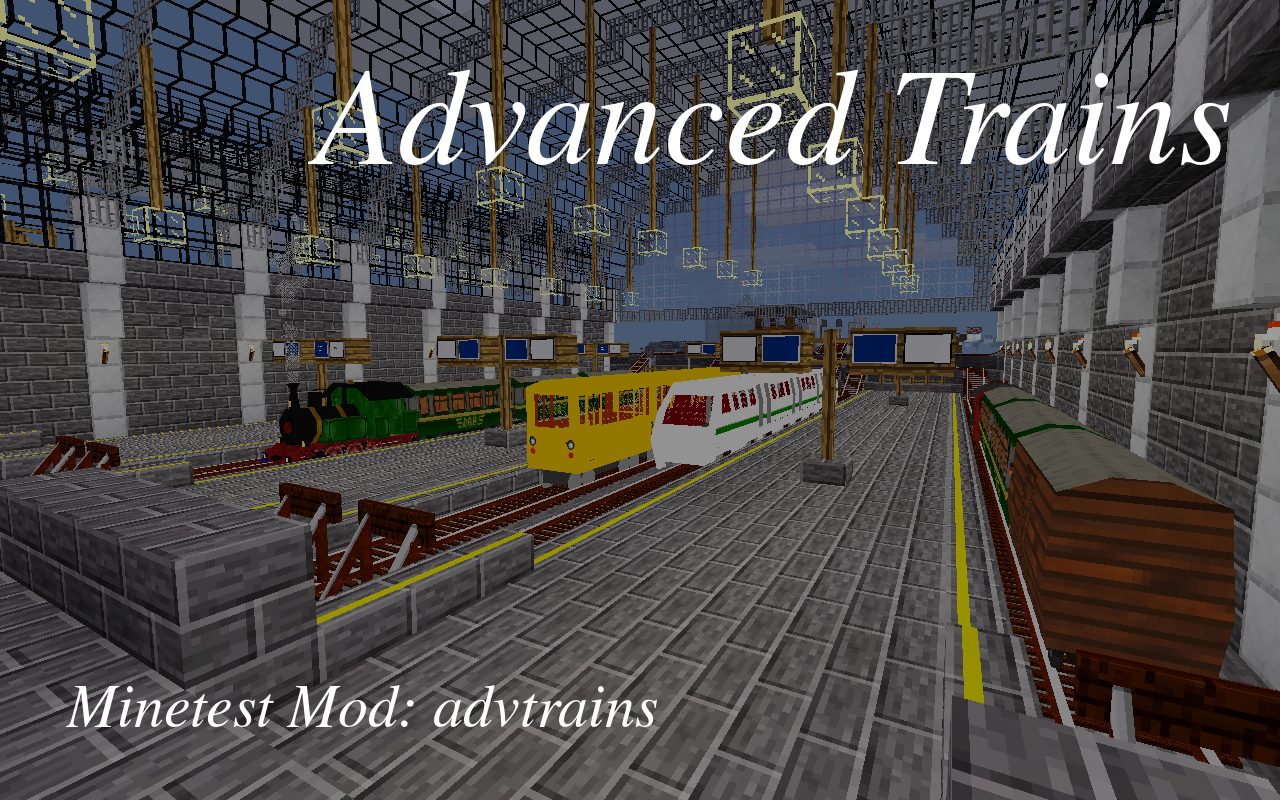 Update 2.3.0: The modpack no longer contains trains. Please install Basic Trains to get them back!
This mod features realistic trains and various equipment for railways, with a focus on automated train operation.
Main features:
- A small selection of different trains (passenger and goods trains) (see also "Extensions")
- Almost-realistic tracks with actual curves and switches
- Railway signals, controllable by various means
- ATC: Simple, command-like automatic train control
- LuaATC: Powerful Lua-scripted automatic train operation(requires some programming knowledge)*
- An
Interlocking system
, featuring track sections, routes and automatic stopping before signals
Planned features:
- A timetable-based automatic train operation system.
Website
Download / Git
Content Database:
https://content.minetest.net/packages/orwell/advtrains/
Git repository:
http://git.bananach.space/advtrains.git/
Issue tracker:
https://bugs.linux-forks.de/advtrains/
License of code: AGPLv3
License of media: CC-BY-SA 3.0
Recommended Addons
Basic Trains
by me:
http://git.bananach.space/basic_trains.git/
More trains
by rubberduck:
viewtopic.php?f=9&t=24112
Extensions
These are some additional mods that add more content to advtrains.
You just need to install those mods and enable them.
Disco Trains by sivarajansam:
https://content.minetest.net/packages/s ... scotrains/
granite by Smacker:
https://github.com/h-v-smacker/advtrains_granite
older (might not work):
various trains by mbb:
https://mbblp.github.io/advanced-trains
Andrey's stuff:
https://github.com/Andrey2470T/Advanced ... dditional-
Decoration blocks:
metrosigns
(over 1300 items!)
https://git.bananach.space/railroad_paraphernalia.git/
viewtopic.php?f=9&t=19743
Tunnel building
Tunnelmaker:
viewtopic.php?f=9&t=20159
Digtron:
viewtopic.php?f=9&t=16295
Servers
There are some servers running the Advanced Trains mod:
Linuxworks Next Generation
- I am frequently online on this server. If you are in trouble with some railway setup or have a question, it's best to catch me there.
*) LuaATC is in use in a variety of applications, most notably the Spawn subway system, on this server
Grand Theft Auto Minetest
- This server has some subway lines operated by advtrains.
Pandorabox
ITALIAN ULLA SERVER
Сrimea HiTech&Magic (RUS)
SERVER
Survivalworks Urban Edition
There might be more of which I am not aware.
Contributors
Advtrains wouldn't be what it is now without the help of numerous contributors providing bugfixes, new features or additional content.
Active contributors:
- gpcf (gabriel)
- yw05 (ywang)
- Blockhead
- Maverick2797
- rubberduck [moretrains]
- W3RQ01 (dario23)
- doxygen_spammer (doxydoxy)
Past contributors:
- mbb
- Smacker
- Hume2
- techniX
Special thanks also go to gpcf and all players of LinuxForks Next Generation for acting as a "live beta" of advtrains and enduring lag, crashes and disasters.
------
Get in touch: Discuss with us on IRC -
https://libera.chat
Channel
#advtrains
------
Access code for Advanced Trains Wiki account creation:
SEMAPHORE