This mod adds a few new blocks that allows to create new buildings in a pre industrial landscape. Of course, feel free to use them in any other construction
It also provides more layers of stones. I tried not to turn mining in a rainbow, so don't expect to find them easily. There are two kinds of materials, stones, that spawns in layers at different deep and clay like materials (silt and mud) that you will find in water places. Silt and Mud are more easy to find than stone layers, but if you find one it will be a real mine, with all probability with hundreds of blocks.
I used mainly 4 square recipes to avoid collisions with other MODs, anyway I have not checked all them, so it is possible that another person is already using one or more of this combinations.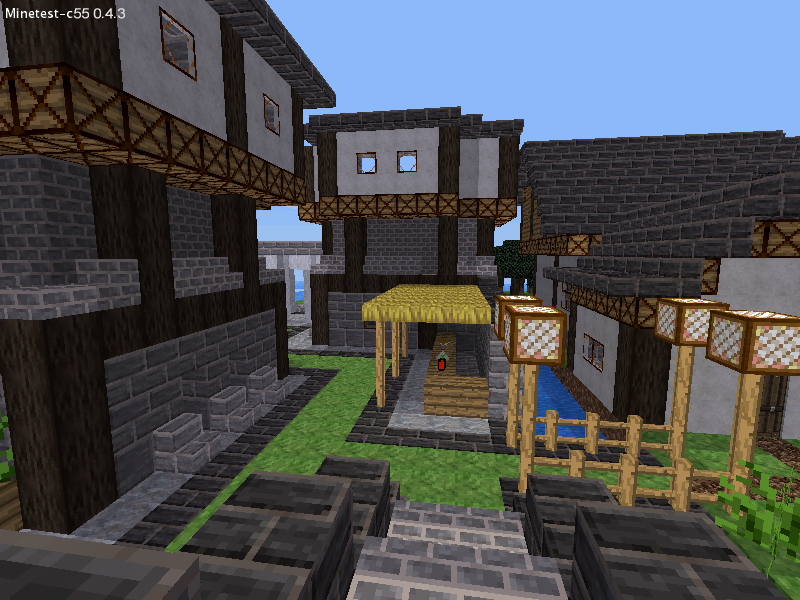 About Deserts:
I have been adding new stuff to the deserts, some MODs already does some of them.
It adds more some crafts and also iron to the Desert Stones, only iron, not coal (I speculated that Desert Stones are red because they are rich in iron). It will not crowd them with iron, but if you don't want it I can tell you how to remove the lines that does it. It is really easy.
About layer generation
Someone told me to release this functionality as a separated MOD, at the end I opted to include it as a single MOD but I structured it in a way that is really, really easy to remove this option, just read the tunning section. The map generation will not turn your map in a rainbow. I'm not sure if they are too hard to find, so maybe I will change the frequency in futures releases, I'm still testing them.
Stones spawn under earth. Don't expect to find them easily. In fact I suggest not to search them, just do your regular digging for your ores and they would have to top up from time to time. They spawn at different deep in function of the level of metamorphosis. More longer is their process of generation, more deeper they are found.
Clay like stratum are more easy to find (Mud and Silt) maybe too easy, they spawn in water in a similar way that clay does. Silt doesn't require sand, just regular dirt and water. Just scan the coast and they will be there.
Mosts of the stones can be crafted from default or cooking them. One time I find a good generation equilibrium I will remove this recipes and move to an optional file. Currently the only stone that can't be craft from default is Chalk. You can access to it in his stratum or in the creative inventory or with the /giveme command.
Images:
http://www.flickr.com/photos/87735827@N ... hotostream
License:
WTFPL.
Depends:
default
Download:
https://github.com/MasterGollum/darkage/zipball/master
Wiki:
http://darkage.wikia.com/wiki/About
Recipes:
Check the wiki for them
Releases:
DarkAge 0.4 - 33 nodes + 3 craft items
Changes in layer generation
Reinforcement blocks, lamp, marble and serpentine
DarkAge 0.3 - 28 nodes + 3 craft items
Layer generation
Furnitures
DarkAge 0.2 - 13 nodes + 2 craft items
DarkAge 0.1 - 6 nodes
Tunning:
Comments the following lines to remove what you don't like:
(To comment them just add -- at the beginning of their lines)
Stone Layers
dofile(minetest.get_modpath("darkage").."/mapgen.lua")
The stones will not spawn in the map.
Furniture Nodes
dofile(minetest.get_modpath("darkage").."/furniture.lua")
Only pure stones will be provided.
Stairs
dofile(minetest.get_modpath("darkage").."/stairs.lua")
I will add more stairs, now only Slate Tales and Straw have stairs and slabs.
Variant Version by addi:
https://github.com/adrido/darkage/zipball/master
Features:
compatibility with stairsplus added
added new item iron_stick
added craft reziep for iron stick
changed reziep of iron_bars to avoid conflicts with ironbars mod
changed reziep of chain to avoid conflicts with 3d furniture mod
changed reziep of darkage:stonebrick to avoid conflicts with moreblocks
dissabled marble_tile to avoid the message "texture not found"
added compatibililty with stairsplus (now its moreblocks)
added darkage:glass a nice looking glass that must be in this mod
added darkage:glow_glass the same glass this only is glowing
changed the sound_node_leaves_default to wood_default from box and wooden shelfes
added craft reziep for darkage:chalk
improved the textures of reinforced wood and chalk to save a bit more loadtime on servers
added another reziep for darkage straw (this can be crafted now, if farming is installed, with farming:harvested_weed
and the
todo
for the near future:
remove darkage:sandstone_brick (because this will be in the default game)
remove darkage:desertstone brick (this will be in default too)
create an alias for darkage desertsone to avoid unknown blocks
create an alias for darkage sandstone_brick to avoid unknown blocks too