Hi yall from me in Tennessee!
I figured i would go ahead an put this out there to see what people think. I am working on a mod that will pave roads in straight lines through any terrain(including lava, and water). it uses the streets mod for the streets and paves a 3 block wide side walk on both sides of the street and then deploys one street lamp on either side at every 10 blocks. Its not done by any means but its functional. Started this thread for now just to keep track of the progress and share some screen shots.
THese first 4 screen shots are of the inventory aboard the machine @ 1000 cube depth. I ran it 5 times for a consumption of 2000 coal and earned all these resources plus paved a nice road.
all of the coal minus the first 99 was mined in the process, no /giveme used. as you can see from the (pain in the butt because i had never done one before) formspec you can control the depth no matter what the amount of coal in the inventory is.
here is a picture of the pretty street
this code is based on all the other revisions of tbm on this site and i want to thank them for their hard work, as well as all the other modders hard work that makes this game possible!
things that are done:
Y Bores a 13x7 hole in any material in the default_game (and most other materials)
Y Emits its own light for long dark tunnels
Y stops at a preset distance
Y Huge internal inventory so you dont need to pick up all your stuff off the ground
To do :
Make bore and road size adjustable in formspec
make it lay walls and ceiling, but only when underground, or have option for stone glass exterior tunnel.
make ceiling/walls optional
add coal from inventory automatically (next)
make compatible with pipe works and embed pipe under ground to travel goods to a set place/ factory
if no pipeworks make it so with one click you can empty it into your inventory
make compatable with carts and lay track/ auto load and send cart (ambitious)
make it check that blocks are still cleared after it moves on (sweep up falling gravel or sand)(ambitious)
and i am open to more suggestions. so let me know.
Edit:11/28/2015
well i worked on a few thingws today mainly 3 additions to the fomr spec that allow you to take all the items in the inventory of the tbm or put all your items in the inventory of the tbm or delet all the items in the machine. now i am off to go and change the form so that you can control the width and height and then later ill make it so you can control the depth.
as always screen shots.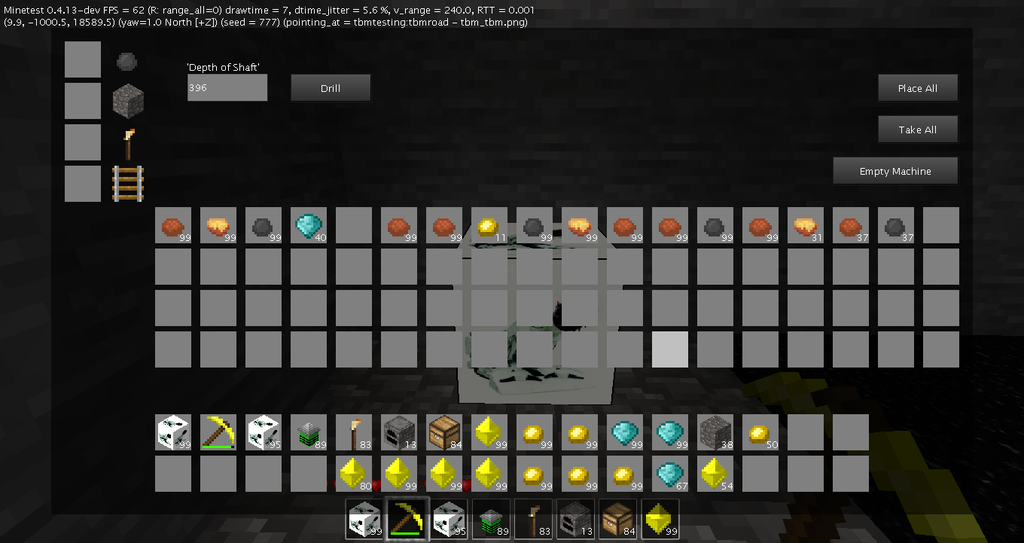 after i get it to where it controls the height and width i am goint to make it so that lava doesnt invade the rodes any more.. for now i suppose i will just make it dam up the lava on the side of the road until i get it to build complete tunnels.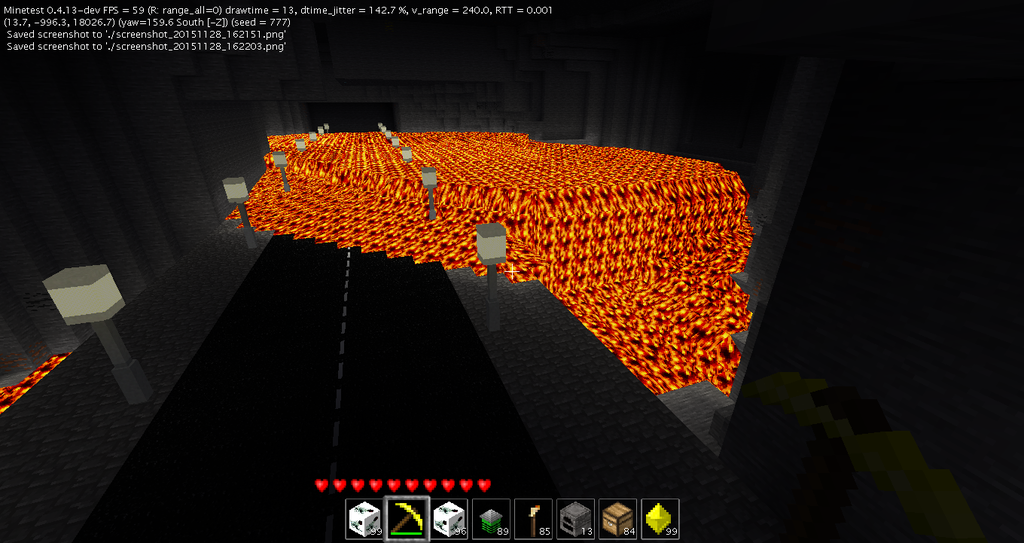 no chance anyone would know how to node box a custom texture would they .. i have a texture but i dont know how to node box it.